Early Childhood Education Begins Here!
Lee Christian Preschool Academy is a fun, loving development center that provides social, emotional, physical and academic growth opportunities for young children, ages 6 weeks to 5 years old. We are a Christian preschool created in an atmosphere of caring, respect, and acceptance. By working together with our families, it is our goal to provide the loving, family atmosphere necessary to support each child's need to identify and express his or her feelings and develop the skills to problem solve.
Our Approach to Education
We take a traditional approach to early childhood education, in which children are taught respect for self and others while acquiring a healthy attitude and appreciation for school and learning. We work hard to help children develop a strong sense of independence and positive self-esteem. We also believe in helping the children to problem solve. By challenging children to try new things, explore new interests and praising their success, children begin to see themselves as capable and unique individuals.
We believe in focusing on the good choices children make while growing up. We use a positive reinforcement system that will focus on the achievements your child makes to set the foundation for a healthy self esteem. We dedicate our time to help your child build their independence, promote sharing, socializing, creative self-expression and positive self-awareness which all foster a well-rounded individual.
Our teachers and staff are held to high standards of excellence and care. All of our teachers are CPR and first-aid certified. They also regularly participate in continuing education opportunities.
Working Together with our Parents
We continuously strive to partner with our families to help build a strong foundation for our students. We use multiple methods of communication with our families to ensure every aspect of the family's needs are met. We offer different educational opportunities for our parents throughout the year such as car seat safety and CPR classes. We also build a strong sense of giving back and helping those in need through our community programs.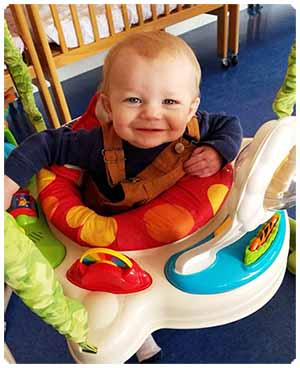 We know that selecting the right child care provider can be an overwhelming task. It will be one of the most important decisions you'll make, because the early years of child care are critical to your child's long-term development. At our preschool you and your child will receive the personal attention that we believe is necessary to enhance a trusting relationship. As a parent, you will receive the highest quality care for your child in a setting where your child's social, physical, emotional and intellectual development will be nurtured. We understand your concerns and want to make sure you leave our center each day with the confidence that your child is happy and in the very best of care!!
If you are looking for an early childhood education program that challenges your child's intellect and creativity, instills appropriate social skills, promotes self esteem, solid Christian values and positive outlooks, you will not be disappointed.
For all who are led by the Spirit of God are sons of God.