Boosting Creativity, Self-Expression & Group Play
The K2 Program is designed for children 2-3 years old and offers opportunities for children to interact and play with their peers rather than just along side of them. The program focuses on boosting creativity, self-expression, independence and introduces group play and the Abeka Curriculum.
Daily activities consist of art, sensory play, blocks, dramatic/home center, and fine and gross motor play. Creative activities encourage self-expression through movement, painting and dramatic play. Through hands-on interaction and free play, which is the natural enterprise of young children, each child's unique gifts and talents are able to emerge at his or her own pace. We also help your child learn to be more independent, from being able to clean up after themselves to the ability of putting on their jackets, using zippers and buttons, and making good choices.
Introducing The Abeka Curriculum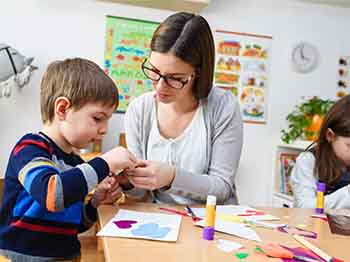 As early pre-schoolers become more aware of themselves and their peers we begin our study of the Abeka Curriculum. At Lee Christian Preschool Academy we believe that every child needs a strong foundation in both academics and character. Abeka is an accredited, Christian based curriculum that teaches standard academic material from a Christian perspective to help build moral character that will equip children for life. By coupling the Abeka curriculum with our learn through play philosophy we provide opportunities to build a foundation of skills in a variety of areas including spiritual, language, social-emotional awareness, self-regulation, and problem solving.
Helping Your Child Flourish
Throughout the K2 program early pre-schoolers are guided in making an important transition from individual play to group play and learning important "self-help" skills that build their independence.
At Lee Christian Preschool Academy your child will flourish in an environment filled with child initiated activities that balance play and discovery by teacher direction and instruction.  Through our positive reinforcement philosophy your child will develop a positive self-esteem that will carry on through their life and Biblical lessons will help build good moral values and character.  Academic success begins in early pre-school.
Contact us today to learn more about our K2 Program and facilities.
All your children shall be taught by the Lord, and great shall be the peace of your children.