Letters, Numbers & Field Trips - Oh My!
Our K3 Program is designed for children ages 3-4 years old with all of their energy, enthusiasm and imagination. At Lee Christian Preschool Academy we feed their growing minds with a healthy balance of academics and playtime.
Quenching Curious, Growing Minds
Preschoolers are naturally curious about their surroundings and we build our classrooms based on that curiosity. Our K3 Program is geared toward developing preschooler's social skills through role play and cooperative games. We cover these areas using a variety of methods to ensure that your child is getting what they need in order to grow.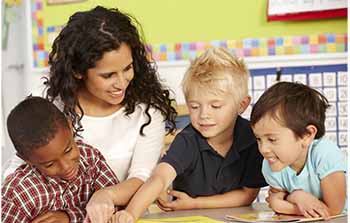 Our K3 curriculum is designed to enhance the spiritual, cognitive, gross motor, fine motor, social, emotional, speech and language development of each child by providing engaging lessons and activities taught by experienced and qualified teachers. Through the Abeka curriculum, kids begin to recognize letters and numbers, letter sounds, and even their own names in written form. They will also focus on letter formation, identifying the first sound in a word and writing words. Writing their name for the first time is a new and exciting achievement for all K3 children!
Taking Lessons Outside The Classroom
We do not limit our program to one teaching venue or method, but rather provide a virtual banquet of educational choices. We offer exciting, academic-based field trip opportunities that enhance lessons from the classroom. In the past, for example, K3 children have visited the Zoo, the local library, working farms and, around Christmas, taken a trip to Dollar Tree, to learn about giving to others who are less fortunate. At Lee Christian Preschool Academy we go to great lengths to teach "outside the box" so your child gets the best educational opportunity available.
Contact us today to schedule a tour of our facilities, meet our staff and learn more about our K3 program.
I have no greater joy than to hear that my children are walking in the truth.